"By the time I come out of my bedroom, and I see him trying to close the door, and he's just frantic and afraid," she recalled of the May 3 incident. "They're pushing the door open. I grab the door and immediately notice (the armed man) and the crowd screaming at my son.""You need to sit down," she told Dameon before turning her attention to the group of about 15 white people who had converged on the porch and walkway of her Pender County, North Carolina, home about a 30-minute drive northeast of Wilmington.The armed man in the door — a now-former corrections officer from the next county over, Jordan Kita — was in uniform and demanded to come inside, she said, wedging his foot in the door when she tried to shut it in his face. Kita's gun was unfastened in his holster, and alongside him were a man with a shotgun and another with an assault-style rifle, she said. A teen girl had gone missing, Kita explained, and they were looking for a boy who used to live in the neighborhood. Monica repeated what her son had told them: They had the wrong house.
Son's chant quelled crowd, mom says
Dameon Shepard began pacing, his mother recalled. A 5-foot-9, 200-pound high school football player, Dameon was more of a threat to the group than she was, she realized. "I did not want him to come near us because I did not want him to give them a reason to say he came at us, they were fearing for their lives and shoot him," she told CNN. "He knows why I told him to go back."It was a tough spot for her son. He wanted to protect his mom. Her partner wasn't at home at the time, making him the man of the house. Yet he knew why his mom wanted him to stay back. "He did not want to disobey me," she said, "and he knows I've always told him: Right now, as a black man, you have to be very careful how you move. You cannot come off as a threat."Dameon is a graduating senior at Laney High School, as a sign thatthe group overlooked in the front yard explained. The boy the group was seeking went to Topsail High. Dameon Shepard did the only thing he could think to do. He began chanting. "My name is Dameon Shepard. I'm graduating from Laney High School. There is a sign in the front yard with my name on it. I did not go to Topsail," he said over and over, his mother recalled. It was the chant, Monica Shepard said, that convinced the group, finally, that they were at the wrong home, as mother and son had been telling them for almost five minutes.
Kita was fired and is facing charges
Kita is now out of a job and facing misdemeanor charges, along with another man, Austin Wood, New Hanover and Pender County District Attorney Ben David told reporters five days after the Shepards' frightening encounter.Neighbors allege Wood arrived on the porch with an assault-style rifle. He stands charged with going armed to the terror of the public, David said.New Hanover County Sheriff Ed McMahon launched an internal affairs probe and fired Kita, he said in a statement read to reporters by David.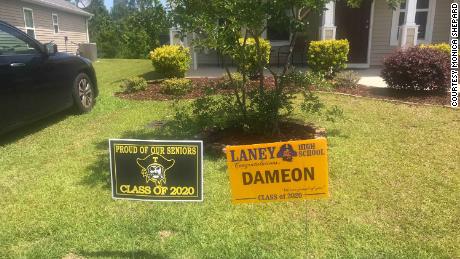 The ex-New Hanover County corrections officer is charged with forcible trespass and breaking and entering, as well as willful failure to discharge duties as his alleged crimes were committed "while armed and in uniform in a county that he was not duly sworn in and in furtherance of personal not law enforcement purposes," prosecutor Ben David said.Shepard thinks more people should see their days in court, she said. "I think every person that was on this property should be charged," she said, but whether that's possible is unclear as her attorney, Jim Lea, said in a letter to David that a sheriff's captain told neighbors that deputies hadn't even taken down anyone's name.Wood was served with the charge Friday and is scheduled to appear in court June 9, while Kita has yet to be served, Sam Dooies, David's assistant, told CNN late Tuesday. Neither will be arrested because the charges are misdemeanors. It's not clear if they are represented by attorneys. CNN's attempts to reach Kita and Wood have gone unanswered.
Neighbor's account
It was about 10 p.m. when neighbor Kelly Estes' husband, Thomas, heard a commotion, peeked out the blinds and saw a man throw an AR-15 into the back seat of a red pickup truck, she said. They decided to go outside, Kelly Estes told CNN.One neighbor was asking Kita for his name, while another was admonishing the group for driving erratically in their normally quiet neighborhood, she said."He was aggressive to both of them. He was reluctant to give his name," Estes said. "He was definitely not friendly."The group eventually left, and Monica Shepard came outside and told the neighbors what had happened. One nearby resident, an ex-police officer, called 911.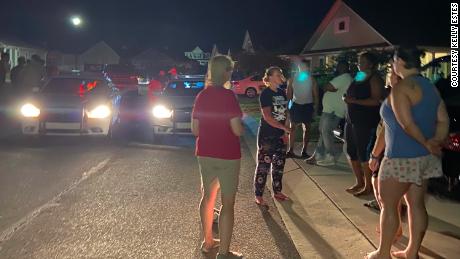 "I wasn't thinking clearly that night," the mother said of why she hadn't already called authorities. "It didn't dawn on me what happened. I think I was still in shock."A few neighbors went and got their guns because "we didn't feel like (the Shepards) were really being defended," Estes said. The family is one of two African American households on their street, she said. When the police arrived, the group of people looking for the girl came back, she said, and the neighbors stayed with the Shepards while they talked to police. Estes knew the boy the group was looking for and put two deputies on the phone with his mom, she said. They didn't speak long, and she later heard one of the deputies say they'd found the missing girl at a friend's house. "Lo and behold, she isn't even with him," Estes said. "All of this happened for zero reason."As neighbors at the scene, including the ex-policeman and a former bail bondsman, recounted more than two dozen laws they felt were broken, a Pender County sheriff's captain nodded in agreement, Estes said. Thus, it surprisRead More – Source
[contf] [contfnew]
[contfnewc] [contfnewc]