Apple has reported its best ever second quarter financial results, easing analyst fears over iPhone X sales.
The technology giant reported revenue of $61.1bn (£44.9 billion) for the first three months of the year, up 16% on the same time a year ago.
Apple shares surged in after-hours trading in New York despite the world's most valuable listed company missing iPhone sales expectations in its latest results.
The California-based firm which, like rivals, is under pressure amid a slowdown in smartphone sales, said it had shifted 52.2 million handsets in its second financial quarter – up from almost 51 million in the first three months of 2017.
The latest figure slightly undershot analysts' estimates, as did the average iPhone selling price, which suggested some discounting to help offload stocks as the global market suffers from stiff competition alongside weaker demand.
Apple had been seen as being under particular pressure as rivals undercut prices for its top iPhone models while the iPhone 8 range and 10th anniversary edition iPhone X received lukewarm reviews.
But investors were cheered by progress elsewhere – with shares rising by up to 5% as revenue and profits surged and on confirmation the company was to reward shareholders through proceeds it was repatriating to the US following tax reforms announced by Donald Trump.
Luca Maestri, Apple's chief financial officer, said: "Our business performed extremely well during the March quarter, as we grew earnings per share by 30% and generated over $15bn in operating cash flow.
"With the greater flexibility we now have from access to our global cash, we can more efficiently invest in our US operations and work toward a more optimal capital structure.
"Given our confidence in Apple's future, we are very happy to announce that our board has approved a new $100bn share repurchase authorisation and a 16% increase in our quarterly dividend."
The company said it would complete the previous $210bn share buy-back programme during the current quarter.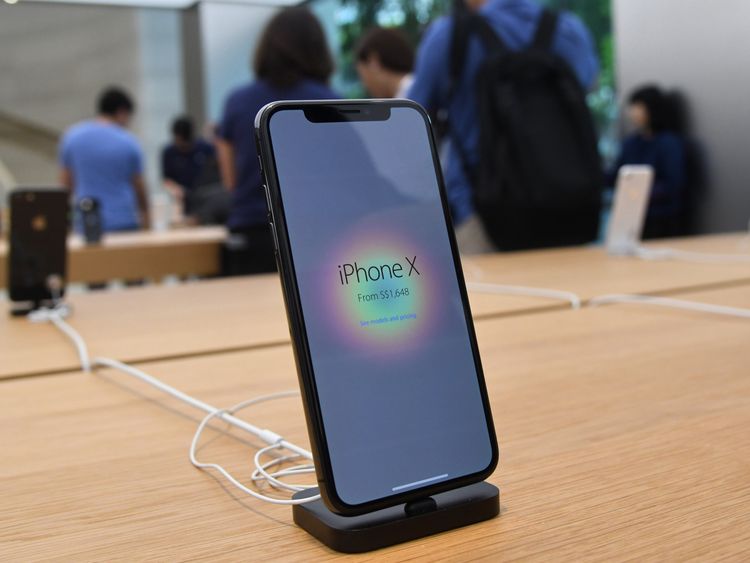 Such moves are welcomed by investors mainly because they tend to concentrate the value of a holding for those who continue to keep shares.
Apple's second quarter revenue included $9.1bn from its services business, which includes Apple Music, the App Store and iCloud.
Apple does not break down sales by iPhone model but chief executive, Tim Cook, was delighted by the overall figures and forecast a mid-point revenue range of $52.5bn for the third quarter – above estimates.
He said: "We're thrilled to report our best March quarter ever, with strong revenue growth in iPhone, Services and Wearables.
More from Business
"Customers chose iPhone X more than any other iPhone each week in the March quarter, just as they did following its launch in the December quarter.
"We also grew revenue in all of our geographic segments, with over 20% growth in Greater China and Japan."
[contf] [contfnew]
[contfnewc] [contfnewc]