Apple removed an app from its App Store that provides real-time updates for Hongkongers about police and protester movements on Oct. 10, becoming the latest international brand that has caved to pressure from the Chinese regime.
The dynamic, crowd-sourced app HKmap.live has become popular for helping people to navigate through the tear gas-filled streets in Hong Kong, a former British colony where pro-democracy protests have erupted since June against Beijings creeping interference. The emojis and spontaneous updates proved handy for users to track conditions such as train closures and potential clashes.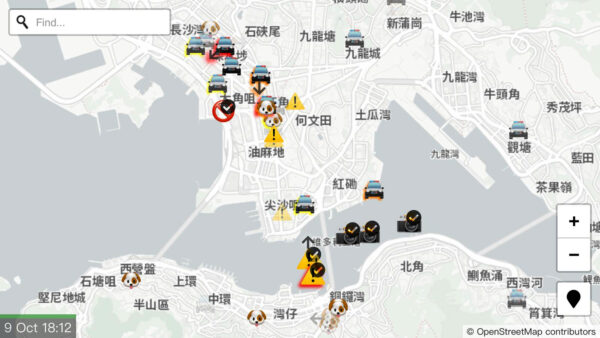 Apple said in a statement that the app has posed "serious harm" to law enforcement and local residents.
"We have verified with the Hong Kong Cybersecurity and Technology Crime Bureau that the app has been used to target and ambush police, threaten public safety, and criminals have used it to victimize residents in areas where they know there is no law enforcement," it said.
Apples CEO Tim Cook defended the apps removal on Oct. 10, saying that it was based on "credible information" from Hong Kong police and Apple users in Hong Kong.
In an internal memo obtained by several media outlets and confirmed by Apple, Cook wrote that although information such as crowdsourced reporting of police checkpoints and protest hotspots is in itself "benign," the app was "being used maliciously to target individual officers for violence and to victimize individuals and property where no police are present."
"It is no secret that technology can be used for good or for ill. This case is no different," Cook wrote.
The move came one day after Chinese state media berated the company for aiding Hong Kong protesters by approving the "toxic" app. The app, which is also on Google Play, had just gone live on the iPhone shelf less than a week ago, after initially being rejected by Apple earlier this month.
Responding to the app removal, a Chinese foreign ministry spokesperson in an Oct. 10 press conference again described the Hong Kong movement as "extremist" and "criminal activities."
The developers of HKmap.live said they disagree with claims that the app is a public safety threat and said there was zero evidence backing up the Hong Kong authorities allegations.
"The majority of user review[s] in the App Store … suggest HKmap IMPROVED public safety, not the opposite," they said.
Apples rejection of the app is "clearly a political decision to suppress freedom and human right in HongKong," they added.
"HKmap is used by [sic] passerby, protesters, journalists, tourists, and even pro-government supporters … If HKmap is for target and ambush police or other illegal purpose as falsely accused, why would I bother making it available to the public?"
Sen. Josh Hawley (R-Mo.) criticized Apples decision, saying that the company had just assured him last week that "their initial decision to ban this app was a mistake."
"Looks like the Chinese censors have had a word with them since. Who is really running Apple? Tim Cook or Beijing?" he said on Oct. 10.
Chinese officials and state media have consistently framed the unrelenting pro-democracy protests in Hong Kong as "riots" and have derided foreign companies that go against the Party line for "hurting Chinese feelings."
HKmap.live expressed disappointment to see U.S. brands "such as Apple, NBA, Blizzard Entertainment, and Tiffany & Co. act against freedom."
Those companies, among others, have come under fire lately for taking actions to appease the Chinese regime in connection with the Hong Kong protests.