The administration's now-reversed "zero tolerance" policy, which led to the separation of thousands of parents and kids at the border, spurred a wave of grass-roots groups that organized across the country.Their mission: stepping in where they felt government officials had failed.And in the days leading up to Thursday's court-ordered reunification deadline, their efforts were on full display. Here are some of the things we saw:
'Angry aunts and grandmas' brought backpacks stuffed with supplies
At a bus station in the border city of McAllen, Texas, this week, a group of volunteers arrived with backpacks full of toiletries, bottled water and snacks. The group, known as Angry Tias & Abuelas (Angry Aunts & Grandmas) of the Rio Grande Valley, said they wanted to help families who had just been reunited and released from custody."These people don't have a cent in their pocket," said Melba Lucio, an English instructor who joined the effort. "We're angry, but we're not staying angry," Lucio said. "We're doing something about it. We're calling our friends."Theyorganized swiftly to amass and distribute supplies, she said."We didn't even know each other, a lot of us," she said. "We meet, two or three days, and we're like family. We're all trying to do the right thing as human beings."After the group was askedto stop handing out supplies at the McAllen bus station, volunteers instead delivered them to a Catholic Charities shelter nearby. Then they returned to the bus station to field questions and help families coming through navigate their next steps."We are just citizens that want to help and do the right thing," Lucio said.
Moms formed carpools to take people across the country
A network of volunteers known as Immigrant Families Together has used crowdfunding to raise more than $300,000 to help pay bond for parents in detention. The group, largely made up of mothers, alsohas organized cross-country carpools to transport immigrant families and host them in their homes.Julie Schwietert-Collazo said she started the group after hearing about one woman's case on a radio show."I saw that it was possible to have an impact through the collaboration of many people, and I knew that there were a lot of people who wanted to commit themselves to repairing the pain toward immigrants that we have caused as a country," she told CNN en Español.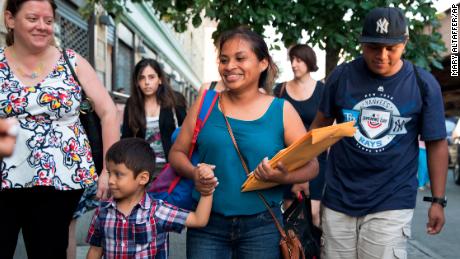 The group plans to keep working, she said, until its efforts are no longer necessary."I've always said if we have to get them out one by one, we will," she said.
A 6-year-old's lemonade stand raised thousands of dollars
Last month, a 6-year-old in Atlanta raised more than $13,000 to help separated families with a lemonade stand that started on his street — and continued online. Shannon Gaggero said she loved it when her son suggested selling lemonade to help families who were separated at the border, and added an online fundraiser to the physical one. She hoped to raise at least $1,000. They ended up raising $13,283.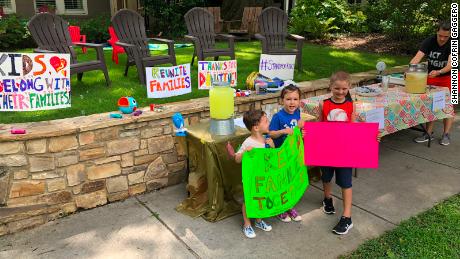 "My kids are 6 and 3, so they don't quite understand the scope of how much money we raised," Gaggero said. "They know it's a lot and they feel proud that so many people got involved to help."Their family isn't the only one. This weekend another advocacy organization, Lawyer Moms of America, is planning a nationwide push known as "Kids Take a Stand" to raise awareness about family separations and raise money "to speed up the safe reunification of families."
A woman flew hundreds of miles to volunteer at a shelter
Alanna Gillis was getting ready to relax at the beach by her parents' house in South Carolina when she saw a call for volunteers from an immigrant shelter in Texas. She knew what she had to do."I said, 'OK, I have this skill set, absolutely. When is the next flight that I can take? Because I want to be able to do something, because I so vastly disagree with this," said Gillis.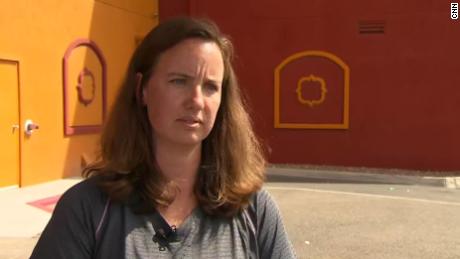 So this week Gillis flew from Hilton Head, South Carolina, to El Paso, Texas, to join volunteers working at Annunciation House, an immigrant shelter where recently reunited families often end up after they're released from detention.All week, Gillis said, she's been greeting families as they arrive at the shelter and helping organize meals and coordinate flights for them."By the time that they come here, it's been a months-and-months-long journey of really intense worry, suffering, anxiety, all of that," she said.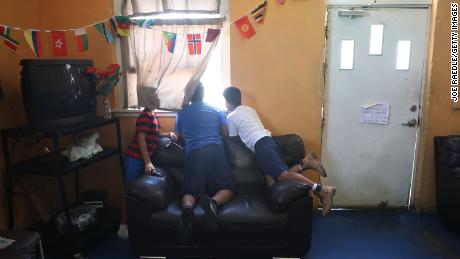 At the shelter, she said, volunteers try to send a different message than they've been hearing during months in detention."Our primary purpose, first and foremost," she said, "is providing a welcome, saying that, 'We think you belong here. We welcome you to be here. We recognize that you're fellow human beings and … we love you as fellow human beings, and we want to help you.'"
CNN's Emanuella Grinberg, Yilber Vega, Maya Eliahou and Andrea Diaz contributed to this report.
Original Article
[contf] [contfnew]
[contfnewc] [contfnewc]