Far-right conspiracy theorist Alex Jones has been kicked off Twitter for a week after breaking abusive behaviour rules.
The Infowars presenter was punished over a video he tweeted earlier this week, which the social media site said included an "incitement to violence".
It has since disappeared from his account.
Jones can still browse and send direct messages to his followers, but for now cannot tweet, retweet or like posts.
He will regain full access to all features next week, with Twitter having been reluctant to follow other technology companies in banning him from its platform completely.
Apple banned him and his podcast from iTunes earlier this month and Google removed him from YouTube.
He was also booted off Spotify and Facebook, with the former stating that it had taken action "due to repeated violations of Spotify's prohibited content policies".
Facebook said his content was guilty of "glorifying violence" and "using dehumanising language to describe people who are transgender, Muslims and immigrants", which breached its community standards.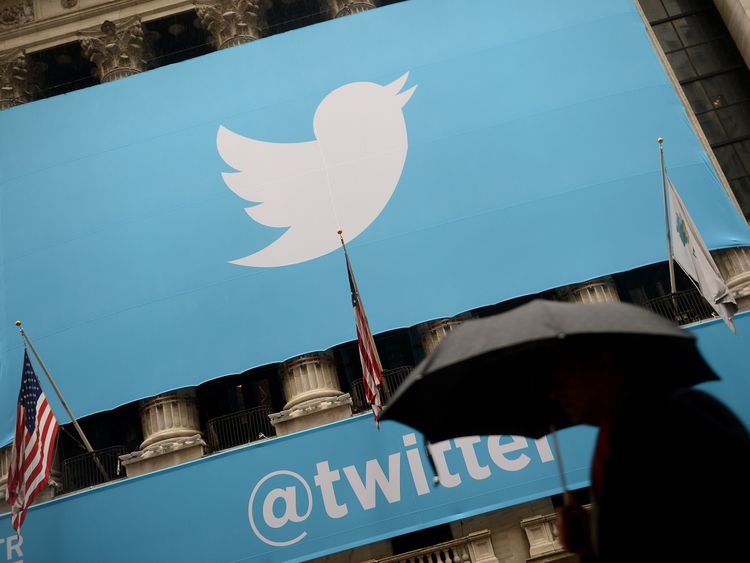 Jones – who has won the support of UKIP over his "social media silencing" – has claimed he is being censored by a conspiracy funded by "communist China" to target "nationalists, conservatives, libertarians and Christians".
He is currently being sued by the families of victims of the Sandy Hook Massacre, whom he alleged were part of a hoax constructed to legitimise gun control laws.
Another of his infamous conspiracy theories is that the US government staged the 9/11 attacks.
More from Science & Tech
Once back on Twitter, his account will still hold a verified tick, which critics of the micro-blogging site say lends gravitas to far-right users.
Last week, a source at the company told Sky News it was committed to being an "open platform" and promoting "healthy conversations".
[contf] [contfnew]
[contfnewc] [contfnewc]