As in, this isn't just another red flag warning— meaning winds, temperatures and humidity are ripe for fire danger. It's an extreme red flag warning.The weather service in using the term for the first time to convey that the fire conditions expected this week "have not been seen in recent memory."Hurricane-force winds — the kinds that knock down power lines and trees — are expected to blow across bone-dry vegetationon Wednesday, and the weather service is warning there is a danger of very rapid fire spread."Residents in high fire risk areas should be ready and set to evacuate if emergency officials say so," the weather service office said.Tom Fisher with the weather service said the NWS was not making a new category of warnings."Extreme red flag is not a grade, but it was super important that we get the residents' attention," he said. "This is the fourth event that we've had, it's been a very long, dry spell. And there's no rain in sight." This isn't the first time the National Weather Service has tried to convey danger by adding enhanced language to an alert. In 1999, they issued a tornado "emergency" for Moore, Oklahoma, before an EF5 tornado that killed 36 people. In 2005, an NWS forecaster in Louisiana warned of conditions that could make the area "uninhabitable" before Hurricane Katrina killed more than 3,600 people and wrought around $161 billion of damage in the Gulf Coast states.
Multiple fires in California
More than 26 million people from California to Arizona are under red flag warnings Tuesday as firefighters deal with blazes already burning in California's wine country and in the Los Angeles area.The threats include:• A "remarkable and dangerous" Santa Ana winds event in Southern California — perhaps the strongest this season — is expected to bring gusts of 60-70 mph in the valleys and up to 80 mph in the mountainsfrom late Tuesday night into Wednesday, the National Weather Service in Los Angeles said. • Strong winds Tuesday afternoon in Northern California, with gusts up to 50 mph, the weather service's Storm Prediction Center says.While fires scorch California, these parts of the US will freeze with a wave of early winter weatherThe worsening conditions come as firefighters across the state battle at least 11 wildfires that have combined to leave thousands of people under evacuation orders.On the west side of Los Angeles, where the Getty Fire has charred more than 650 acres since Monday, the expected winds mean roughly 20,000 people under evacuation orders there "will not be returning to their homes this evening," Mayor Eric Garcetti said."Stay away until we lift that order," Garcetti said in a news conference Tuesday morning.
Southern California: The Getty Fire
In Los Angeles, the Getty Fire has destroyed at least eight homes since flaring up early Monday, officials say.The area affected, west of Interstate 405, is known for its celebrities and high-value homes. NBA star LeBron James was among the many residents who evacuated.Nancy Cochran, who left her home in the Mandeville Canyon neighborhood, was among about 100 people who congregated at a makeshift evacuation center at the Westwood Recreation Center. She told CNN affiliate KABC she had just recently lost her husband of 65 years."It's unreal. … My husband just died, and now this," she told KABC on Monday. "I'm living in where it's always burned, and it's burning today. So hopefully I'm going home to a home."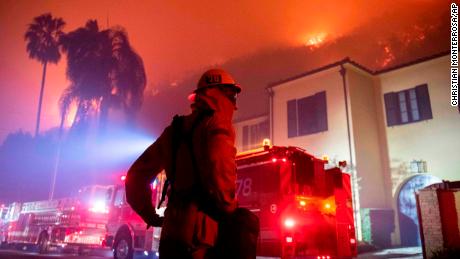 At least 16 schools in the Los Angeles Unified School District will remain closed Tuesday because of fire conditions, a news release from the district said. Transportation to and from the schools will be canceled and absences will not be counted against students' records, the release said.Around 40 miles north, the Tick Fire has burned over 4,600 acres but had reached around 86% containment as of Tuesday morning, according to the Cal Fire incident map. The fire started Thursday and quickly grew to 4,300 acres by Friday, fueled by strong winds.
Northern California: The Kincade Fire
The Kincade Fire, the state's largest active wildfire, has scorchedmorethan 76,100 acresin and around Northern California's Sonoma County since last week.Firefighters have contained only 15% of the blaze, according to the California Department of Forestry and Fire Protection's fire map. More than 180 structures have been destroyed, 86 of which were single-family residential structures, a CAL FIRE spokesman said. The NWS said in a Tuesday news conference that red flag conditions will continue until about 4 p.m. Wednesday, but winds will begin to die down Tuesday night.Weather will begin to look "more favorable" he said toward the end of the week but there is still no rain in the forecast. The fire started October 23 and quickly spread, an incident report from Cal Firesaid.Driven by hurricane-force winds, the fire grew at a rate of one football field every three seconds when it first ignited, CNN meteorologist Brandon Miller said.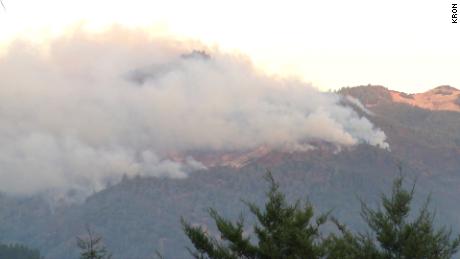 Up to 186,000 residents were under evacuation orders, officials said.Tuesday afternoon, officials announced they were lifting evacuation orders in parts of the county.About 2,400 people returned to their homes, Sonoma County Sheriff Mark Essick said in the news conference Tuesday night."Many of these people are still returning to homes that are without power because of the PG&E power shutoff," he said. "So we want people to be vigilant, be aware communication may not be great."There were three reports of looting in evacuated areas, Essick said. In addition to those incidents, three people have been arrested for unauthorized entry, the sheriff said. California Highway Patrol Capt. Aristotle Wolfe urged people to be smart in the face of dangerous fire conditions. He told Read More – Source