That something else is why he became a producer on the film, Ferrell told CNN. The script, based on the bombshell 2015 New York Magazine article by Jessica Pressler, turned out to be more than just a tale about exotic dancers. Ferrell saw director Lorene Scafaria's vision, and after he heard a number of studios wanted to tinker with the plot too heavily, he teamed up with Jennifer Lopez and Elaine Goldsmith-Thomas and their production company, Nuyorican Productions, to get the movie made. Yes, the film does follow a crew of savvy strip club employees who drug and rob their rich Wall Street clients after the financial collapse in 2008, but it's much more than that. The women are multi-layered characters who are moms, friends, and co-conspirators trying to survive. Ferrell hosted a special screening of the movie at MoMA in New York on Dec. 1, where Lopez reunited with co-stars Constance Wu, Keke Palmer, Lili Reinhart, Julia Stiles, along with Goldsmith-Thomas and Scarfaria to talk about the film and the buzz surrounding it.
"Hustlers" was filmed in 29 days
It all started with Scafaria penning the script and making a sizzle reel, Goldsmith-Thomas said during a panel talk following the screening. "We went around town to everyone thinking we had this beautifully written script with such layered characters, beautifully layered characters, all of them, and a director sizzle reel that really showed you what Lorene wanted to do," Goldsmith-Thomas said. "We went everywhere. We went to every major studio, we went to every streamer. We put it on our backs. We danced and we hustled."And while most studios loved Scafaria's script and was of course eager to work with Lopez, they still wanted to make major changes. "Why don't we demonize the guys? They said, we need to justify why the women do it," Goldsmith-Thomas explained. "They didn't want an amorality story. We said well, you know, this is a true story and we're not standing in judgment on these women. These women do good and bad things. It was one studio, STX, who believed in it. And to Lorene's credit, she made this movie in 29 days."
Lopez almost didn't take the role
In the film, which is garnering award season buzz, Lopez plays Ramona, the club's longest employed dancer and its top money earner. Scafaria wanted Lopez and nobody else would do, but Lopez wasn't sure she could commit. "Lorene always knew what she wanted for this film before she even shot any film, she was so clear," Lopez said during the talk. "But it was a moment where I had worked so much in the year. And I said I have to take time off, I have to be with my kids. I just have to, I'm sorry I cannot do this movie right now. It was the first time I've ever done that in my career. And [Lorene] was like, 'No, do you not want to do the movie?' And I go, 'No, I actually do, but if you have to move on I understand, but I have to do this for my life right now.' And she was like, 'I don't care. You're Ramona and we're gonna make to the movie.' Like she was had so much conviction on what she believed this movie had to be and what it was going to be. And didn't move on. She's like, 'I will wait for you. I will. We'll wait. We'll do it.' And it actually turned out even better."
That solo strip scene? Lopez's idea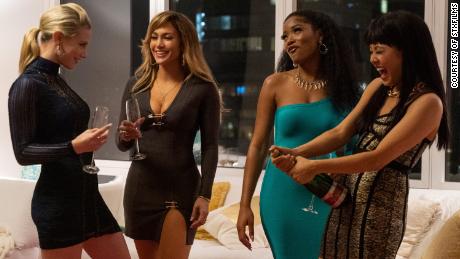 The actress rehearsed alone with only one instructor for the scene where we meet Ramona. Lopez knew you had to simultaneously fall in love with her, respect her, and be in awe of her within seconds. She also knew what the role called for — a "dental floss" bodysuit and nine-inch stripper heels. The first time she performed the pole dance for a crowd was when she filmed it in front of the 300 male extras hired to play club patrons. "I thought Ramona was an amazing character, um, because there was so many different sides to her and I just felt like playing all those different sides in one movie, one character, could be so compelling and confusing, but also like you can't take your eyes off her," Lopez said. So when the script read "Ramona enters with a flourish," Lopez said it had to be "epic.""I think in that opening scene, that was a big thing for me. First of all, I don't think people are going to come to this movie and not want to see stripping," she laughed, "Somebody's gotta strip. I'll do it. I knew Ramona had to do it. I knew Ramona had to get out there. And you know, I had only practiced that dance by myself, with my instructor. It was really scary, but I knew it was important to show that she knew how to get everybody's money and that she had this whole thing and everybody was waiting for her and she was the star of the club and she had to be so amazing that Destiny [played by Wu] fell in love with her in that moment."Lopez was nervous, worse, she says, than performing a concert in front of 50,000 people. Goldsmith-Thomas held her shoulder as she walked in to film the scene. "Like my heart is beating out of my chest, and Elaine was with me in my trailer. And then we walked to the set together when I was ready. And so for that scene it was, it was middle afternoon and I put on that costume," Lopez said. "I'm walking in and I see all the people and Read More – Source