CNN spoke with People Editor-in-Chief Dan Wakeford to learn how the always buzzy — and occasionally controversial — issue gets made.Mel Gibson was the magazine's first "Sexiest Man Alive" in 1985. Others followed sporadically until 1997, when People made their selection an annual event. Past "Sexiest" men include George Clooney (twice!), Tom Cruise (1990), Adam Levine (2013), and Idris Elba (2018.)Wakeford said the "Sexiest Man Alive" concept has evolved over the years, but the selection process involves more than just identifying a celebrity with a handsome face."This year, we really wanted to choose somebody who is kind, and who is good and is nice," he said. It's a theme for Wakeford, who has launched both a Kindness issue and a Mental Health Awareness issue with the magazine."People is really trying to inspire people to make a difference in the world and do good through our content," he explained. The "Sexiest Man" is a person of character, Wakeford said, but they also consider "Who is hot, who is doing really well, and who actually is sexy."For 2019, they landed on John Legend.
When does the process begin?
"We think about it all the time," Wakeford said. "We start thinking about who could be next year's 'Sexiest Man' the day after the last one publishes."
How is the person chosen?
"There are so many different variables and ways of approaching it," Wakeford said. "A starting point often is, when we want to make a decision, is to think about the zeitgeist, think about what is sexy at the moment. What do people find appealing at the moment?"Next is looking at what concepts will make sense visually. "Do we find them sexy?" Wakeford explained His team also conducts polls, which they take into serious consideration when choosing their "SMA." "We did look at data," Wakeford said. "We have more than 90 million consumers a month stepping into the People brand, so we've got a lot of data at our fingertips."
How many men were considered?
"We're considering everyone to begin with," Wakeford said. "We send calls out to consumers and focus groups, working out who people find sexy. There's a lot of people on that initial research."
Keeping the secret
"We did have separate meetings and it's very top secret," Wakeford revealed, adding that until close to the publishing date, only about 10 staffers know who is chosen for the cover."Around the office, we are very careful who knows what's going on. There is a place we keep everything on a secret server for the magazine, so nobody can find out who it is," Wakeford said.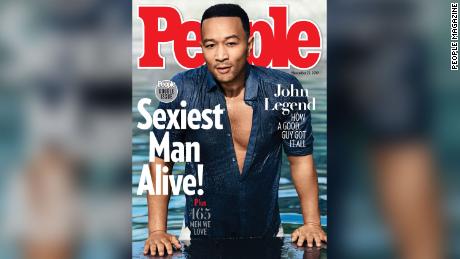 The man, the myth, the Legend
"It's not about being a macho, muscled protector," Wakeford said, "like a cartoon character of the hero, sexy man. John [Legend] is obviously a protector. He stands up to bullies, and he's very handsome. But being sexy is about being decent, intelligent, funny and talented, and that's what John is. He's a family man, he's a good husband and our readers really respond to that. "
How Chrissy Teigen played a role
"We wanted somebody who creates buzz," Wakeford explained. "We get that with John and with Chrissy. She has started different conversations on Twitter. [Legend] has got his own TV show, and he's got his own platforms with music and social and various different elements of conversation that he brings to it."But, he added, as a couple, they are "magnetic, charismatic" and he couldn't ignore the family aspect of it Teigen was at the early November cover shoot, which took place at the couple's Los Angeles home. "The kids were posing, jumping on the bed," Wakeford said. "The family are all you imagine them to be."Read More – Source