Donald Trump has accused the media of trying to "score political points" with their coverage of a suspect held in connection with a series of pipe bombs sent to critics of the US president.
Mr Trump's latest tirade came after police charged a staunch supporter over the bombs sent to high-profile figures, including Hillary Clinton, Barack Obama and Robert De Niro, as well as to CNN.
Cesar Sayoc, from Aventura, Florida, was arrested in Miami after 13 explosive devices were sent to the targets.
Mr Trump, speaking at a rally in North Carolina, called for an end to the "politics of personal destruction".
"We have seen an effort by the media to use the sinister actions of one individual to score political points against me and the Republicans," he told supporters.
US justice department officials said the bombs were "not hoax devices" and warned there could be more still undiscovered.
Sayoc, 56, was identified after officers found a fingerprint on one of the packages, FBI director Christopher Wray said.
Following the arrest, speaking at an event for young black conservatives, Mr Trump said "we must never allow political violence take root in America", saying the country "must unify".
But hours later he launched his attack on the media, as well as on Mrs Clinton.
The president was campaigning in Charlotte, North Carolina and has been on a rally blitz, hoping to help vulnerable Republicans ahead of the 6 November midterm elections.
:: Trump, guns and abortion: Divides States of America
He is planning at least 10 rallies over the five-day stretch before the elections.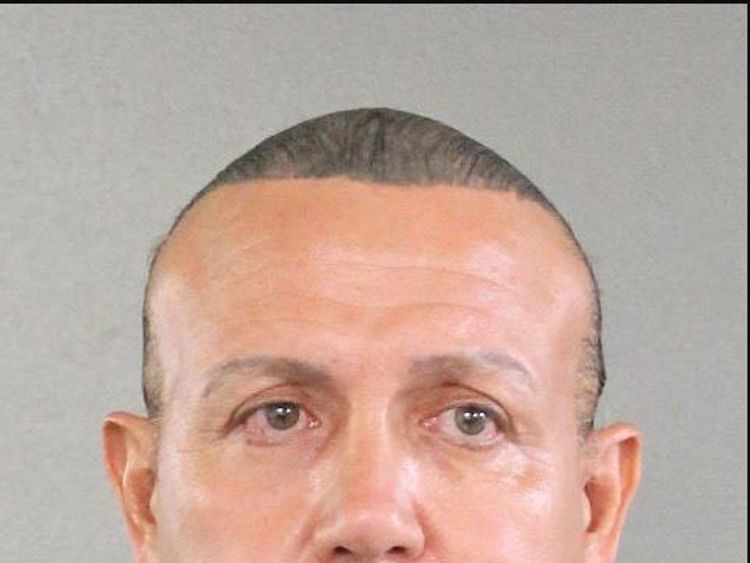 He referred to his 2016 opponent as "Crooked Hillary Clinton," prompting a round of "Lock her up!" chants.
Mr Trump had told reporters as he left Washington that he had no plans to tone down his rhetoric and added: "I could really tone it up.
"Because, as you know, the media has been extremely unfair to me and to the Republican Party."
More from Donald Trump
Earlier in the day the US president complained on Twitter that this "bomb stuff" had slowed momentum for the Republicans ahead of the US mid-term elections.
"Republicans are doing so well in early voting, and at the polls, and now this 'Bomb' stuff happens and the momentum greatly slows – news not talking politics," he wrote. "Very unfortunate, what is going on. Republicans, go out and vote!"
[contf] [contfnew]
[contfnewc] [contfnewc]