Who would target Barack Obama, his intelligence chief, his attorney general, Hillary Clinton, the head of her party's campaign machine and a big liberal donor?
Who, that is, apart from Donald Trump?
While no one is suggesting that the president is the one who posted bombs to key US political figures, they certainly dislike the same people.
The bomber or bombers share the president's distaste for big name Democrats.
Richard Nixon famously had an enemies list. If Donald Trump has one, the targets of recent days would feature high on it.
For all the president's sombre tone and message of unity and togetherness at the White House, plenty believe he has helped set the tone that is the background to the attempted bombings.
In rallies, from behind the screen of Secret Service protection, he talked of punching people in the face and dragging them out on stretchers.
If he believes that doesn't encourage violence, some obviously see it differently.
And within hours of calling for a new tone, he was on the campaign trail in Wisconsin blaming the media for making things so bad in the first place.
If we thought anything would be different, we were wrong.
There is no question that the responsibility for sending deadly devices through numerous hands to target specific individuals lies squarely with perpetrator.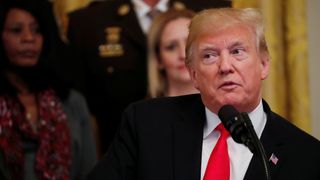 How many people could have been killed or wounded by any of those devices going off accidentally or intentionally? It doesn't bear thinking about.
But Americans can't see this in isolation. For every action, there is a reaction. And when the most powerful man on the planet speaks, people listen.
The FBI will catch the bomber, there is no doubt about that, and we will then find out what really did motivate their ugly actions.
The worry is that this becomes just another colourful chapter in the wacky world of Trump's America and it is forgotten by next week. The normalisation of the extraordinary is a daily occurrence.
More from Donald Trump
Many have already made up their minds about this and, depressingly, in today's tribal and divided America, even something as extreme as this will serve to change very few of them.
[contf] [contfnew]
[contfnewc] [contfnewc]