I'm in Omaha, Nebraska and I've just crossed state lines after a a rollicking Trump rally in Council Bluffs, Iowa.
It has been a while since I was in the throws of the Trump campaign trail juggernaut.
It was a sharp reminder of his mesmerising appeal among his supporters and the unwavering loyalty he has attracted.
At 2pm, in the pouring rain, on a bleak day, people were lining up four and half hours before they would get to see the man himself.
For all the regular sense of indignation and the sight of open mouths in Washington, it takes a few minutes in a place like this to realise why he won the 2016 election and why he could very well do it again in 2020.
On the bleachers of the stadium, I meet Martin. He's wearing a Trump t-shirt. In fact, at least half of the room seem to be wearing some kind of regalia related to the president.
Martin is an articulate man. He tells me he wishes Trump would tweet less. But when I ask him what Trump could have done better in his tenure so far, he is lost for words.
Lots of others I speak to are too.
That, is not what you necessarily expect at this time in the political cycle.
The midterms are meant to be more about punishment than reward for a president and even fervent supporters usually have quibbles. But not here.
He has brought a fresh applause line to Council Bluffs – Brett Kavanaugh. Despite the contentious battle to confirm his supreme court pick, Trump has tuned it into a battle cry and the crowd love it. It's his opening line and invited one of his biggest cheers.
It is risky to put a man accused of sexual misconduct whose confirmation hearing divided America at the forefront of your midterm campaign. But down the road, in a cafe dedicated to hunting and fishing, Republican women tell me Trump is right to focus on the issue.
Michelle Kritenbrink, who is wearing a diamanté brooch proudly emblazoned with "Trump Pence" says: "They tried to sabotage Brett Kavanaugh when he was completely innocent.
"So I think it's a situation for Republicans to talk about because they stood up for due process."
She and others concede turnout will likely be high on both sides and that there is chance that pinning your political strategy on electing a man accused of sexual misconduct could energise the opposition.
But there is unwavering faith in Mr Trump and they all tell me that the women they know who enthusiastically or reluctantly voted for Trump, will turn out again.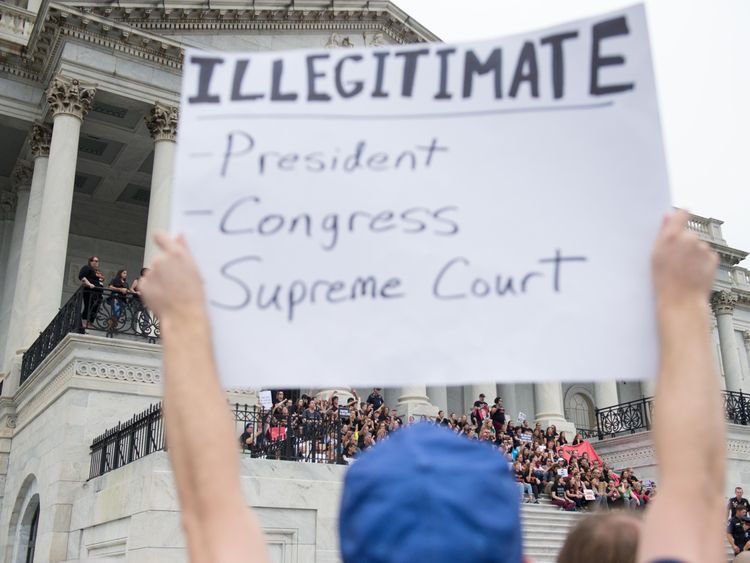 In Council Bluffs, the vote (like the season) could be about to turn.
Here Democrats are hoping to cut through in a tight race.
There are female candidates fighting competitive races in Iowa.
And the Democrats, like the Republicans, say the Kavanaugh confirmation fight has led to a huge increase in donations.
Their calculation is that Donald Trump has offended, infuriated women and energised women.
More from Donald Trump
Both sides think they can gauge the mood of the country.
But in the unpredictable culture wars, either side could get hurt.
[contf] [contfnew]
[contfnewc] [contfnewc]