Donald Trump has told Secretary of State Mike Pompeo to cancel his planned trip to North Korea.
The president said he did not feel denuclearisation talks were "making sufficient progress" and told his secretary of state not to go "at this time".
He has said, however, that a visit is likely to go ahead in the future.
Commenting on Twitter, the president said he did not believe China was "helping with the process of denuclearisation" as it had previously been, thanks to a "much tougher" US trading stance.
Mr Pompeo would "look forward" to going to North Korea in the near future "most likely" after the trading relationship with China was resolved, he said.
I have asked Secretary of State Mike Pompeo not to go to North Korea, at this time, because I feel we are not making sufficient progress with respect to the denuclearization of the Korean Peninsula…

— Donald J. Trump (@realDonaldTrump) 24 August 2018
"In the meantime I would like to send my warmest regards and respect to Chairman Kim," the president concluded. "I look forward to seeing him soon!"
The International Atomic Energy Agency said on Wednesday that North Korea was continuing to develop its nuclear weapons programme, calling evidence of experiments a "grave concern".
In July spy satellites picked up new activity at a site that made the country's first intercontinental missiles, and a report a week later found the nation had been defying sanctions and co-operating with Syria.
Mr Pompeo had been firming up plans for next week's visit, appointing a former senior executive with Ford Motor Company as his special envoy.
The State Department had not confirmed details but it was expected Mr Pompeo was to be in Pyongyang for several hours.
Before taking office people were assuming that we were going to War with North Korea. President Obama said that North Korea was our biggest and most dangerous problem. No longer – sleep well tonight!

— Donald J. Trump (@realDonaldTrump) 13 June 2018
It would have been his fourth trip to North Korea, and the second since the US president held a historic summit with the state's leader Kim Jong Un in June.
The shift in relations between North Korea and the United States followed a year of escalating threats and tensions, and in the run-up to the summit Mr Trump publicly called the meeting off to push Mr Kim to more concessions.
More from US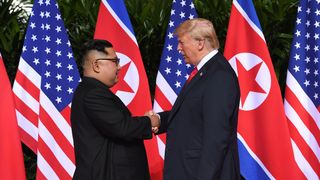 The summit culminated in a joint statement in which the North said it would denuclearise, but with little detail as to how.
It prompted Mr Trump to declare the nuclear threat from North Korea over, telling followers they could "sleep well tonight".