Dame Emma Thompson has told Sky News the UK needs to address work-life balance, describing some of its working arrangements as "slave systems".
In her new film, The Children Act, the star plays a judge whose husband feels neglected because of the time and effort she puts into her work.
But Thompson does not believe her character, Fiona, is at fault.
"I think we need to look at that societally much more – how does our work affect us?" she told Sky News.
"What I'd like to know is what we are, as a society, going to do about the fact that sometimes people can do two jobs and they still don't have any life, because they can't earn enough."
She added that "the powers that be" make people blame themselves for a lack of work-life balance "when actually the work systems that we have are slave systems".
The Oscar-winner is in almost every scene of The Children Act, and her performance is being critically acclaimed.
As well as having to make a difficult judgement about a young Jehovah's Witness who is refusing medical treatment – with whom she develops a complicated relationship – she has her husband contemplating an affair.
Thompson knew she wanted the part as soon as she read the script.
"It was just so compellingly, brilliantly written, and so interesting, and I know Richard [Eyre – the director], so I knew he wouldn't mess it up," she said.
"He's a mate and such a good director and I knew that he would make fantastic decisions about the rest of the cast as well, and he's so collaborative and I thought, 'Well, this is just a big treat.'
"It was a lot to research and a lot to find out about, but it's a fantastic role."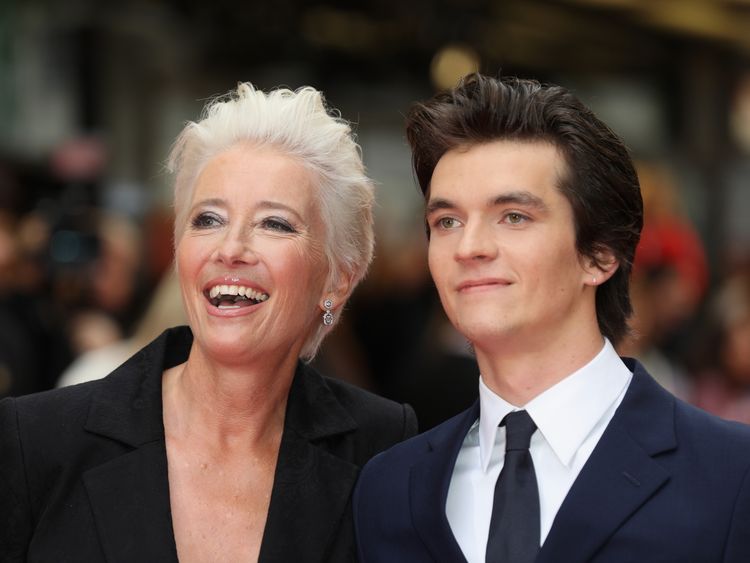 The 17-year-old she's tasked with ruling on is played by Dunkirk star Fionn Whitehead, whose character has leukaemia.
The part was "very draining, and very absorbing", Whitehead said.
He told Sky News: "It occupied every thought when I was acting and then at the end of every day I had to make a concerted effort to leave it, and was successful and unsuccessful in different measures but it was a very affecting part.
"Someone who is that ill – it seeps into every aspect of their life – everything is more laboured and it changes the way you think, and the way you interpret the world, massively."
Thompson said they did their best to retain some levity while filming.
More from Ents & Arts
"We did do quite a lot of laughing, on purpose," she confided.
The Children Act opens today.