Donald Trump has said hush money paid during his election campaign should not be a concern because it came from him.
The US president was speaking with Fox & Friends co-host Ainsley Earhardt in the wake of revelations that his former lawyer Michael Cohen paid women to stop them sharing damaging information during Mr Trump's campaign.
In a snippet of the interview, to be aired on Thursday, Ms Earhardt asks the president if he knew about the payments.
He replies that he learned about them "later on" and added "they didn't come out of the campaign, they came from me".
"They weren't taken out of campaign finance, that's the big thing," he says. "My first question when I heard about it was did they come out of the campaign because that could be a little dicey."
The account contradicts that of Cohen, who has revealed he paid off porn actress Stormy Daniels and model Karen McDougal at Mr Trump's instruction, in order to influence the 2016 US election campaign.
The former "fixer" said he had worked "at the request of the candidate" to prevent an "individual with information that would be harmful to the candidate and to the campaign" from sharing the information.
Cohen told the court he had made the payments for the "principal purpose of influencing the election".
He gave the details while pleading guilty to a charge of making an excessive campaign contribution.
In an interview with Sky News on Wednesday, Cohen's lawyer Lanny Davis confirmed that the candidate his client was referring to Donald Trump.
He said it was "absolutely clear that Donald Trump committed a felony" by ordering hush payments and that he had "lied about it".
In a news conference that followed Cohen's revelations on Tuesday, White House press secretary Sarah Sanders insisted that the president had done "nothing wrong".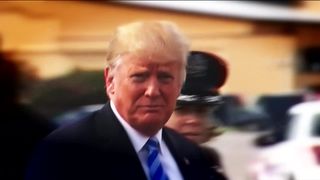 "Just because Michael Cohen made a plea deal doesn't mean that that implicates the president on anything," she said.
During the upcoming Fox & Friends interview, Ms Earhardt also asks Mr Trump if the press was the "enemy of the people".
More from Donald Trump
"No, not at all but the fake news is and the fake news is comprised of – it's a lot – it's a big chunk," he says.
"Somebody said what's the chunk. I said 80%."