A woman has been killed after a man who shot his grandmother and girlfriend crashed his car during a police chase and took hostages inside a supermarket.
Employees and customers climbed out of windows to escape as the unidentified gunman holed up inside the Trader Joe's store in Los Angeles' Silver Lake neighbourhood.
"Inside the store, a young woman was shot and killed," said LA's chief of police, Michel Moore.
"Our officers rescued that woman and attempted to render aid with the assistance of LA fire and unfortunately were unable to revive her."
Her identity has not yet been confirmed.
Witness Don Kohles, 91, said police shattered the supermarket's windows when they fired at the man, who had run from his car after crashing into a pole.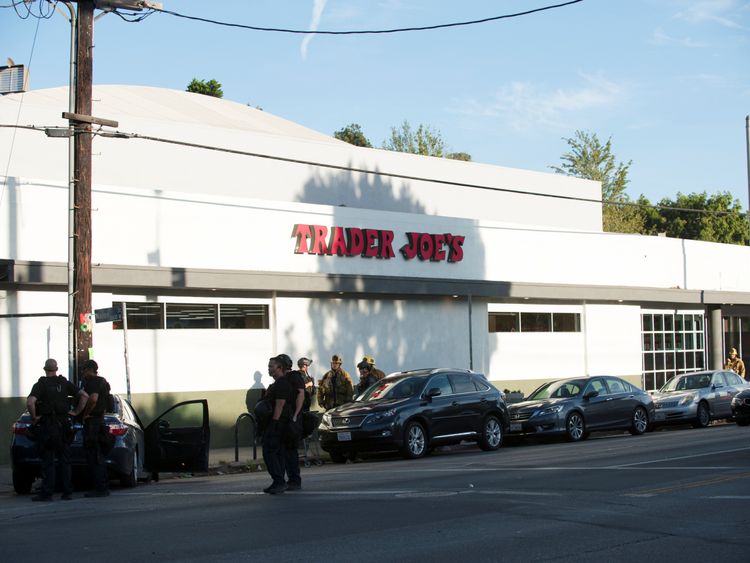 Mr Kholes said people had taken cover and laid on the floor as the man rushed inside – with some terrified shoppers in tears.
Another witness, Devin Field, tweeted that he was going inside the Trader Joe's when the car crashed and the man "got out shooting".
"I ducked behind the 4 foot retaining wall in the parking lot and three LAPD officers ran over, knelt behind it right next to me and opened fire," said Mr Field.
He also tweeted that an employee told him that a staff member had been shot in the arm, but dragged to safety by a colleague and put into an ambulance.
Employees are saying gunman shot a TJs employee in the arm. Another employee dragged her out and the police got her into the ambulance.

— Devin Field (@thatdevinfield) July 21, 2018
That account was backed up by Christian Dunlop, an estate agent who lives nearby, who said he saw an employee drag an injured woman out by her hands.
SWAT teams in riot gear, and also a psychologist, surrounded the supermarket, with mirrors used to try to look inside the store.
Some hostages were allowed to go during the stand-off, leaving with their hands raised.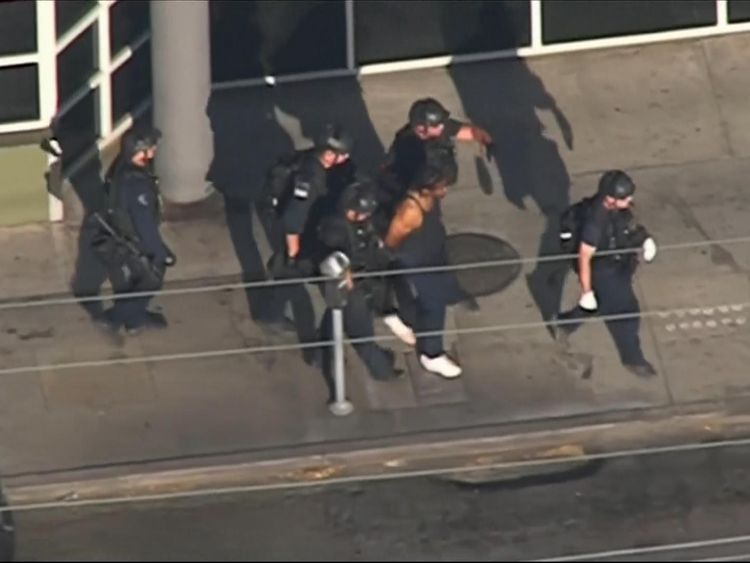 After around three hours the man emerged after being persuaded to give himself up and walk out in handcuffs. He was accompanied by several hostages.
The gunman had a gunshot wound to the arm and was treated by paramedics, said Los Angeles mayor Eric Garcetti.
LAPD spokesman Mike Lopez said the suspect had fired at officers multiple times as he fled the original shooting in the south of the city earlier on Saturday afternoon.
More from Los Angeles
"A male suspect … become involved in a family dispute which resulted in him shooting his grandmother and a female at the scene," Sergeant Barry Montgomery told reporters.
"That suspect fled the location in his grandmother's vehicle, taking that female victim with him."
[contf] [contfnew]
[contfnewc] [contfnewc]