Donald Trump has called for illegal immigrants to be deported with "no judges or court cases".
The US president said they should be immediately sent back to where they came from without any judicial process.
Mr Trump wrote on Twitter: "We cannot allow all of these people to invade our country.
"When somebody comes in, we must immediately, with no judges or court cases, bring them back from where they came.
"Our system is a mockery to good immigration policy and law and order. Most children come without parents.
"Our Immigration policy, laughed at all over the world, is very unfair to all of those people who have gone through the system legally and are waiting on line for years!
"Immigration must be based on merit – we need people who will help to Make America Great Again!"
The president's comments came as dozens of protesters blocked a bus carrying immigrants, including children, from leaving a US Border Patrol processing centre in Texas on Friday.
The bus was held up for about 20 minutes as demonstrators stood in front and behind the vehicle before police dispersed the crowd.
One of the protesters, Martha Garcia Mercado, said: "Those are my kids in there and I want them to know we're fighting for them.
"And I put my hand against the glass so they can put their hands against the glass. I work with kindergarteners, some of these kids are younger than that. And they need love, they need constant love, they need touch. This is child abuse."
Democratic members of Congress toured a US Customs and Border Protection processing centre in the US-Mexico border city of McAllen in Texas on Friday and described seeing children sleeping behind bars, on concrete floors and under blankets.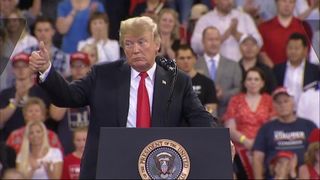 Following mounting domestic and international condemnation, Mr Trump last week signed an executive order to stop children being separated at the southern US border.
But he and Vice President Mike Pence both stressed that their zero-tolerance policy would remain in place despite the new order, meaning that everyone who crosses the border without papers will still be referred for prosecution.
The Trump administration is now trying to dampen concerns about how migrant children will be reunited with their families.
It says the government knows the location of all children in its custody and is working to return them to their parents.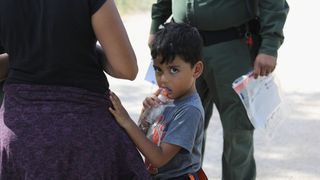 The Department of Homeland Security released a fact sheet on "zero tolerance prosecution and family reunification" on Saturday which said a parent must request that their child be deported with them.
The agency said that previously many parents chose to be deported without their children, possibly because of the violence and persecution they face in their home countries.
Critics have pointed out that the fact sheet does not say how long it might take to reunite families.
The Port Isabel Service Processing Centre in Texas has been set up as the staging ground for the families to be reunited before deportation.
More from Donald Trump
It is unclear how families would be reunited because they are first stopped at Customs and Border Control where children are taken into custody while adults are detained through Immigration and Customs Enforcement (ICE).
Children have been sent to shelters all over the country, fuelling concern that parents might never know where their children are.