America's First Lady is in hospital for a kidney condition and will stay there for the rest of the week, the White House has said.
Melania Trump had an "embolisation procedure to treat a benign kidney condition", according to a statement.
She is at the Walter Reed National Military Medical Center in Maryland, just outside Washington.
The White House said the operation was successful and Mrs Trump, 48, has not suffered any complications.
"The First Lady looks forward to a full recovery so she can continue her work on behalf of children everywhere," the statement added.
President Donald Trump is expected to visit his wife in hospital, a White House official added.
Her admittance to hospital comes a week after she launched the "Be Best" campaign to encourage adults to help teach children to be good citizens.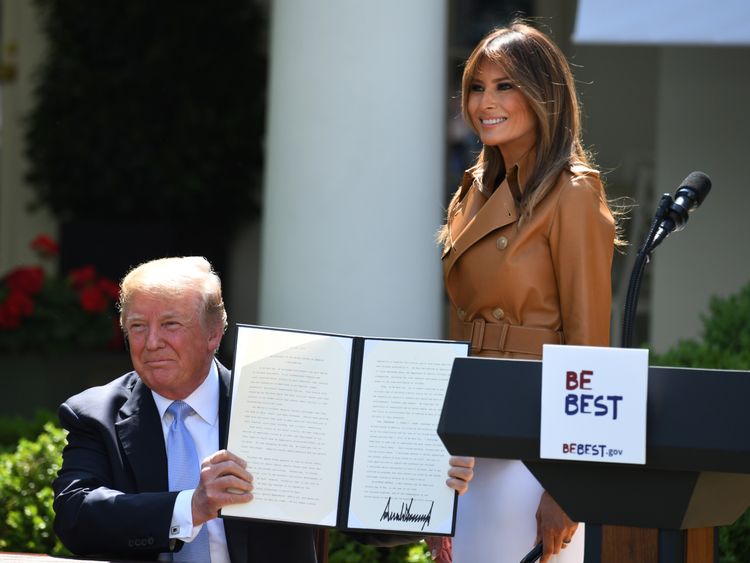 Following a speech at the White House, her spokeswoman Stephanie Grisham was forced to respond to US media reports claiming material she distributed at the event had been plagiarised from an Obama administration leaflet.
It was alleged that the pamphlet handed out was almost identical to a nine-year-old leaflet from the Federal Trade Commission, with some suggesting plagiarism.
More from US
Ms Grisham said in a statement that the "opposition media" used a day meant to promote positive efforts on behalf of children to lob "baseless accusations towards the first lady".
Ms Grisham said the initiative was "meant to support children and the many issues they are facing today".
[contf] [contfnew]
[contfnewc] [contfnewc]