Sir Cliff Richard broke down in tears as he gave evidence in court over "shocking and upsetting" BBC coverage of a police raid on his home.
The 77-year-old singer is suing the corporation over its live reporting of a search of his Berkshire apartment by South Yorkshire Police in August 2014, which came as part of an investigation into a historical child sex abuse allegation.
He sobbed at London's High Court on Thursday as he read out a list of countries the coverage had been broadcast in, having revealed in his 22-page written statement that he had seen it unfold while in Portugal.
"I don't recall exactly which channel it was, but I could see the police going through the drawers in one of the rooms of my apartment," he said.
:: Recap: Sir Cliff gives evidence in BBC trial
"I felt confused; disturbed and very upset. It was like I was watching burglars in my apartment, going through my personal belongings."
Sir Cliff added that he was left "on my knees in the kitchen, sobbing" in the days after the raid, having known that he "had not done anything wrong".
During preliminary hearings, lawyers said a man made an allegation in late 2013 to the Metropolitan Police, saying he had been sexually assaulted by Sir Cliff at Sheffield United's Bramall Lane football stadium when he was a child in 1985.
Metropolitan Police officers passed the allegation to South Yorkshire Police in July 2014.
Sir Cliff denied the allegation and in June 2016 prosecutors announced that he would face no charges. He said the long wait to find out no action would be taken "never felt right at all".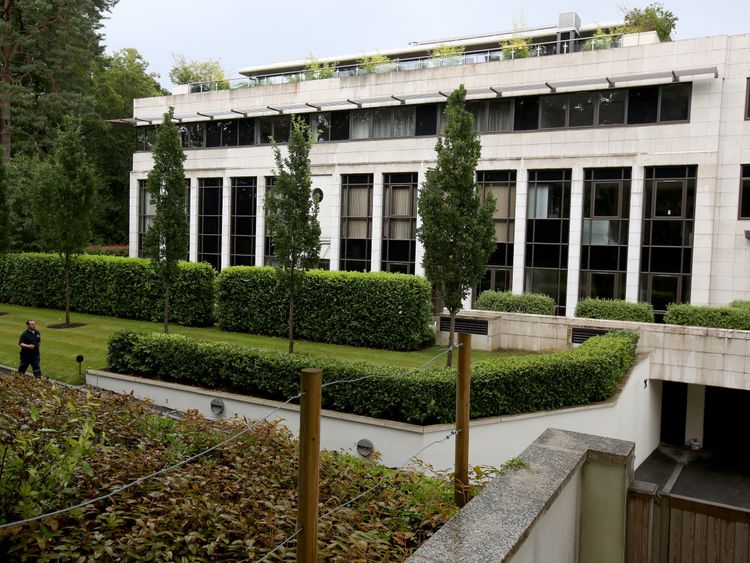 "During the day there was an ever present knot in my stomach," he added.
"I'd wake up in the middle of the night, going over things in my head again and again."
The barrister leading his legal team told the court on Friday that the BBC coverage – which came after a reporter was tipped off by police – was a "very serious invasion of privacy".
Justin Rushbrooke QC said the star should get compensation at the "very top end of the scale".
South Yorkshire Police has accepted it "acted unlawfully in its dealing with the BBC", by confirming to a reporter that Sir Cliff was "being investigated" and "telling them about the search warrant", but claimed it was the BBC's actions that caused the most potent damage.
The force, which has settled its dispute with the singer and agreed to pay him "substantial" damages, said the broadcasts caused "distress" and "financial damage", with Sir Cliff claiming he has spent £3.4m in legal and PR fees to help "overcome a serious allegation that was a lie".
Bosses at the BBC – who blamed police for the dispute in court on Thursday – have disputed Sir Cliff's claims.
They insist that the coverage was accurate and in good faith, and that his denial of the allegations has always been fully reported, but the pop icon said he found the initial broadcast "very disturbing".
"It felt as though everything I had worked for during my life – trying to live as honestly and honourably as I could – was being torn apart," he said.
"I felt forever tainted. I still do. I was portrayed as a sex offender around the world before I had even been questioned by the police."
More from UK
Sir Cliff hugged friend and supporter Gloria Hunniford when the hearing came to an end on Friday afternoon.
The case continues and is expected to last for 10 days.