Last time we saw Naomie Harris, she was being Oscar nominated for her role in Moonlight, the indie film that famously beat La La Land.
The actress played the drug addict mother of the main character and was recognised with a supporting actress nod at both the Academy Awards and the BAFTAs.
Now cinema-goers can see her once again, but in a movie which couldn't be more different.
In Rampage, Harris stars opposite Dwayne 'The Rock' Johnson as a genetic scientist trying to stop three giant predators from tearing a city apart.
The London-born actress told Sky News her decision to change direction was deliberate.
"I've been acting for 32 years. It's all I've ever done and I've played such a variety of roles and absolutely loved it," she said.
"But after Moonlight, what happened was I just got all these offers which were basically to play Paula again.
"And I was kind of like 'guys I've done completely different roles, why am I suddenly being typecast?'
"So I had to find a role that was 100 million miles away from Paula to get out of that kind of trap that I was in, and I found Kate in this brilliant movie which I'm incredibly proud of."
The film is a sci-fi, loosely based on a video game, with all the stunts and action that you would expect from a movie featuring The Rock.
Harris said it was a wonderful opportunity to work with the action star.
"I'd never worked with him before but I'd heard really good things about him because he has a great reputation in the industry as being someone who's very kind, and generous and sensitive and caring, and he was all of those things," she said.
"I thought 'I've done Bond, so I know how to do the stunt work, I'll be fine', but this was completely different because this is largely acting against green screen, which is a million miles away from normal stunt work… You're reacting against nothing and you feel really stupid.
"So you need someone like Dwayne, who's the master of that universe, to kind of hold your hand and show you how it's done. He really did, he was very generous with me."
Despite her experience doing stunts, Harris said she – like most of the cast – suffered while on set.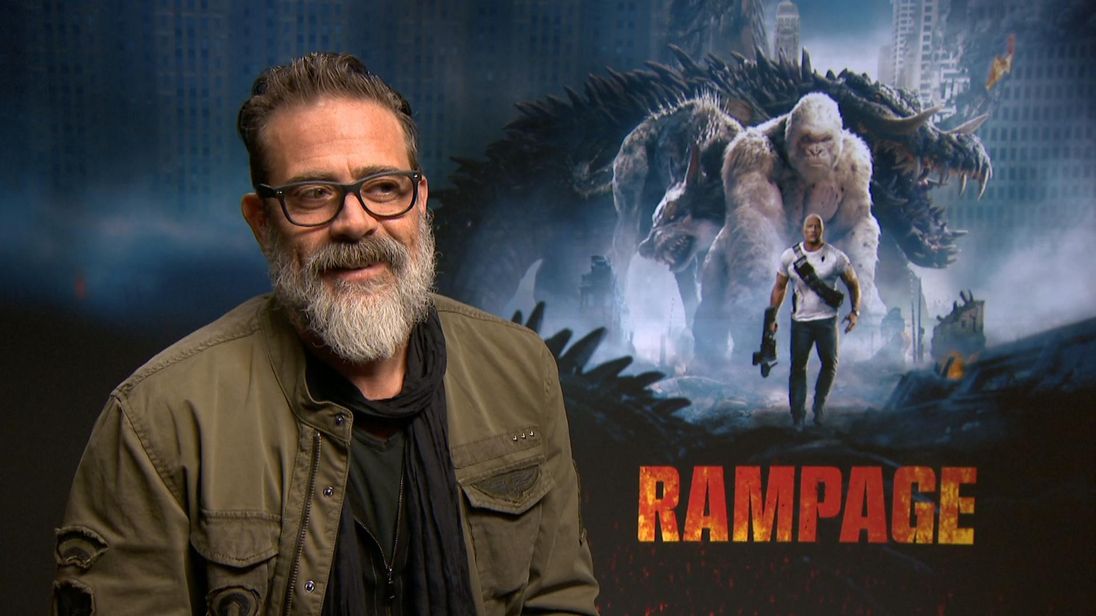 "In the scene in the aeroplane, there's wind machines and all that kind of thing… I was supposed to be crawling on the seats," she said.
"And one of them – they're all bolted down except for one – it flew up in to my face and hit my nose so that was the end of filming that day.
"We all have our war wounds. I actually punched Malin Akerman in the face at the end of the movie. I misjudged the distance, so that was kind of bad for her that day.
"When I saw her at the LA premiere, I was like 'are we ok?' She was like 'oh my gosh I'm totally fine, it's all good'."
Some early reviews out of the US suggest Rampage may be the film to break the so-called video game "curse" – which has seen plenty of movies that have gamer fan-bases doing badly at the box office.
Last night at @rampagethemovie premiere in my home city, London
I cant thank all of our fans enough for your constant love, and support throughout these premieres.
You guys make it all worthwhile
In theatres WORLDWIDE APRIL 13TH #RAMPAGEMOVIEpic.twitter.com/6N1knic2uV

— Naomie Harris (@NaomieHarris) April 12, 2018
Harris says she wasn't aware of the curse before making the movie, but is confident it won't fall foul of it.
"I think it's very brave of all the producers to dive in to making this movie knowing that the number of films based on games that have flopped," she said.
"But I think this is 100% going to overcome that, because it's a phenomenal movie, it really is.
More from Entertainment
"And I think it's a video game done right because you take the important elements of the video game and then you create a brand new story around it and you give the movie heart and soul and also an incredible amount of humour as well. There's a lot of funny moments in this movie."
UK viewers can make up their own minds about whether Rampage has broken the curse from 12 April.