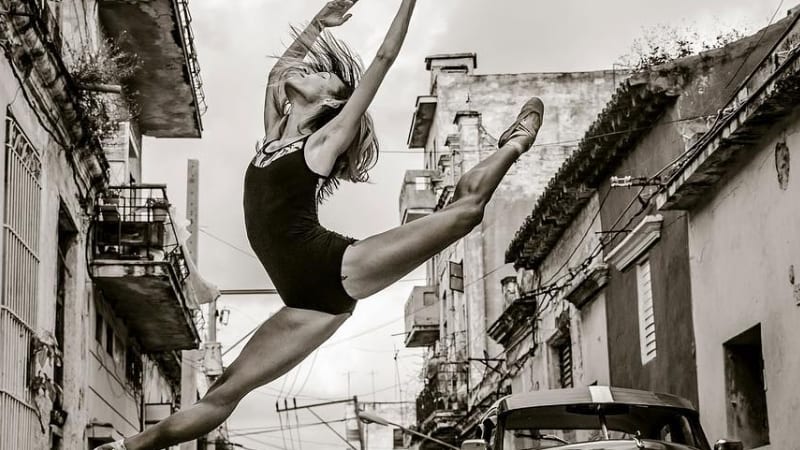 "No, no," Sanchez says sternly on a terrible overseas phone line through her interpreter. "It's not sexy, it's sensual."
Surely something has been lost in translation?
Reviewers who have seen Ballet Revolución usually reach for similar phrases: "Cuban cocktail", "sizzlingly hot-boodied", "a firework of passion", "athletic, sweating bodies".
Sanchez was in Vienna when we spoke (midway through the company's tour of Germany, Austria and Switzerland before arriving in Australia). Perhaps the Germanic reaction to their show had been muted?
"No, no," she says again. "The audiences here have delighted and surprised us. They get a bit crazy. Maybe, Australian audiences will be even less reserved?"
Sanchez is one of the children of the Revolución.
Within two years of overthrowing the corrupt, Mafia-dominated Batista regime, Fidel Castro launched free arts education for all, including both classical ballet and contemporary dance.
Sanchez was a beneficiary (as are all the dancers in Ballet Revolución) of Cuba's extraordinary education system.
Aged eight, she took up classical ballet at primary school in her small town in the country's north-east. By high school, she had been selected to continue her studies in Havana at the national ballet school, and performed in The Nutcracker during a tour of Canada.
Then she turned to the "dark side", thanks to Australian producer Mark Brady.
"Ballet Revolución is my baby," Sydney-based Brady says. "We launched it in Perth in 2011. I'm the producer and creative director. This is the fourth time we've brought Ballet Revolución to Australia, and it is different each time."
Brady discovered Cuban culture in the late 1990s. A professional pianist in his youth, and heir to one of Australia's most prestigious arts agencies/producers, Brady had already scored a major success with Gaelforce (capitalising on the Irish dance phenomenon triggered by Riverdance and Lord of the Dance) when he and a mate went to Cuba.
Their visit resulted in two long-standing productions. The Bar at Buena Vista (a cabaret show concentrating on the venue made famous in Wim Wenders' 1999 documentary film The Buena Vista Social Club) and Ballet Revolución.
"I found an amazing talent pool of dancers and musicians," Brady says. "A lot of the boys and girls in Ballet Revolución were picked out of primary school because they showed talent.
"It took me two years to get (Ballet Revolución) staged. I've worked with the same two choreographers – one Australian (Aaron Cash) and the other Cuban (Roclan Gonzalez Chavez) – for a decade.
"That's the secret ingredient. Two equally brilliant choreographers but with different styles and sensibilities. That gives the show its dynamic."
What can Australian audiences expect of the new show, which features high-energy dance performed to music by Adele, Prince, George Michael, Justin Bieber and Coldplay?
"Passionate, powerful, emotional and energy, both classical and modern, the Cuba of today and tomorrow," says Brady.
"Joy, passion and beautiful dancing," says Sanchez. "There are 18 or 19 numbers, and all of the dancers are involved, so you'll see a lot of me."
But is it sexy?
"There's a lot of skin in the show," Brady says on hearing that Sanchez preferred "sensual" to "sexy".
"They're all so beautiful to look at. Why not show it?"
Ballet Revolucion, State Theatre, May 11-12
Comments disabled
Morning & Afternoon Newsletter
Delivered Mon–Fri.